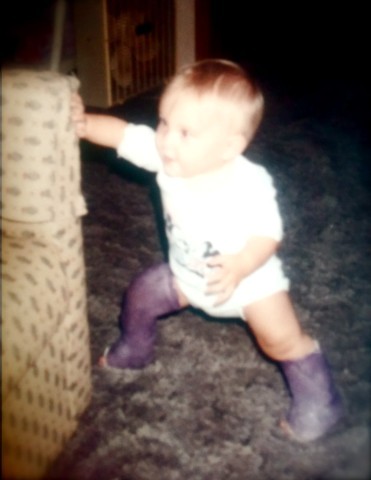 From a Dad's point of view…
"The birth of a child, especially your first and only, used to make me think what man wouldn't want a boy to carry on the family name…the one that holds his little girl for the first time, that's who. WOW, that was a feeling that can't be purchased or bought for any amount of money and how special that was for me.
We all want our children to be perfect and we, as parents, are to do our best to keep them safe and from harm. Ericka was born with a club foot and the doctor at the hospital where she was born said she may not walk or would not walk normal. To a parent that is news that you never want to hear or be told, that something is wrong with your child. This is where our story began with Shriners Hospital. There motto or saying is "Love to the Rescue" and that is exactly what they did for our family, for my little girl. After two surgeries to correct her foot, she was just fine. She grew up playing sports all through high school, taking dance classes and even was part of the theater group at college where she attended.
Then the world came crashing down around our family on a Tuesday in November, 2010. Ericka received a text from someone she thought was a friend, a friend that needed help, so she left home thinking she was going to help that friend. Yet she was lured and deceived by an evil individual filled with hate wanting to harm any and all around him. At the end of that horrible day, he had not only taken the life of my daughter, but three others before taking his own life. So hard to comprehend such an evil act of hatred actually started out with Ericka just leaving home to go help someone in need and then being badly deceived.
That takes us to The Ericka Wade Foundation and our family choosing to try to help those that so often can't help themselves. We chose to take something so terrible and turn it around, along with precious memories of our Ericka, to help others. Our motto is just as Ericka always tried to do…Putting Others Before Me.
Shriners Hospitals for Children – Love to the rescue. We need to take care of and protect our children especially today. If not us, then whom shall it be…"
Eric Wade